Disposable VINYL gloves for electronic industry use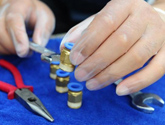 Product Name:Disposable VINYL gloves for electronic industry use
Material:(PVC Paste resin、plasticizer Etc.)
Size:(XS \ S \ M \ L \ XL)
Type:Powder free
Color:Natural color
Level:Electronics industry grade
Packing:100pcs/box,10boxes/carton, can also be customized according to customer requirements.
Certificates
The ISO9001 quality system certification
The ISO13485 quality system certification
Surface resistivity test
Acid proof, alkali test report
Metal test report
Application
Widely used in the semiconductor industry, precision electronic components and equipment installation, the photovoltaic industry,the application of high-tech productinstallation and commissioning etc..
Characteristics
Products do not contain latex protein, Non-allergic.
No powder, dust content is low, ion content, anti-static, anti puncture.
Ambidextrous, wear convenient, comfortable with manual dexterity.
Specification
Size

Spec

XS

S

M

L

XL

Tolerance

9'Length(mm)

240

240

240

240

240

±5

12'Length(mm)

300

300

300

300

300

±10

Width of palm(mm)

75

85

95

105

115

±5

Tensile strength(Mpa)

11

11

11

11

11

Min

Elongation(%)

300

300

300

300

300

Min